Gold Prices Dive as Money Flows to Equities (Update 1)
Tickers in this article:
ABX GLD IAU
Updated from 2:07 p.m. ET with settlement prices
NEW YORK (TheStreet) -- Gold prices plummeted on Tuesday as investors poured out of safe-haven assets and into equities.
Gold for June delivery at the COMEX division of the CME dropped $25 to $1,575.90 an ounce. The gold price traded as high as $1,604.30 and as low as $1,574 an ounce, while the spot price was tumbling $23.90, according to Kitco's gold index.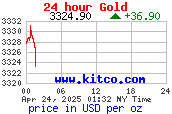 "The money has been flowing into the U.S. dollar, into the U.S. equity markets; the U.S. equity markets pinned primarily because of the Federal Reserve's zero-rate policy," said Peter Hug, global trading director at Kitco Metals. "So the money is moving into the risk assets of the equity markets in the United States."
Silver prices for May delivery dropped 70 cents to $27.25 an ounce, while the U.S. dollar index was adding 0.24% to $82.94.
Private investors continued to add gold to their portfolios in March but at a slower pace than February, a survey released Tuesday by BullionVault found. The index settled at 53.2 in March against 54.4 in February, and marked the third-consecutive month of decline.
"I did expect it to fall greater, and to me this just shows that the public is not convinced of the recovery yet," said Miguel Perez-Santalla, a vice president at BullionVault. "The federal government is kicking the can down the road, and that's what the public believes."
Societe Generale analysts released a report on Tuesday morning that said they believed gold had entered bubble territory.
"Rising interest rates, driven in part by a positive view of the U.S. economy with an associated improvement in the dollar, could be the perfect storm to start a longer-term bear market," the report said.
Gold ETF SPDR Gold Trust lost 1.5% to close at $152.43 a share, while iShares Gold Trust was off 1.5% to $15.32 a share. Gold mining giant Barrick Gold dropped 2.5% to $28.29 a share.
-- Written by Joe Deaux in New York.
>Contact by Email.