Stocks Fall as Holiday Shopping Slows, 'Cliff' Concerns Persist
Written by:
Parris Kellermann
Tickers in this article:
AA BAC KO
NEW YORK ( TheStreet) -- U.S. stocks fell, reversing gains, on concern the holiday-shopping season will fail to provide a boost to the economy as President Obama attempts to tackle the so-called fiscal cliff.
Retailers declined as sales rose 0.7% in the month through Dec. 24, compared with 2% growth a year earlier, MasterCard Advisors SpendingPulse said, without providing dollar figures. A combination of the possibility of higher taxes and spending cuts, and the twin tragedies of Hurricane Sandy and the Newtown, Conn., massacre put a damper on shopping.
The president will need to make progress over the next five days. Failure to do so would trigger tax increases and spending cuts, a combination that could put the economy into a recession. Congress will return Dec. 27, while Obama travels to Washington from a vacation in Hawaii today.
Obama, even with a decisive re-election victory last month, has had a tough time dealing with the Republican-controlled House of Representatives. Speaker John Boehner's "Plan B," a compromise on raising taxes for the wealthy, was throttled by his own party, raising concerns Democrats and Republicans will be locked in battle as they have been in the past four years.
Obama, before going on vacation, sought from both parties a plan that would avert tax increases before a larger deal could be hammered out.
The Dow Jones Industrial Average fell 24.5 points, or 0.2%, to 13,114.59.
Losers outweighed winners 17 to 13. The biggest decliners were Wal-Mart(WMT) , Coca-Cola(KO) and United Health (UNH)
The largest gainers were Bank of America (BAC) , Alcoa(AA) and Hewlett-Packard(HPQ) .
The S&P 500 fell 6.8 points, or 0.5%, to 1,419.83. The Nasdaq dropped 22.4 points, or 0.7%, to 2,990.16.
The economic calendar in the U.S. included the so-called Redbook, a measure of sales at chain stores, discounters, and department stores, as well as the S&P/Case-Shiller 20-city home price index.
National chain-store sales were little changed in the first four weeks of December from November, according to Redbook Research's latest indicator. Economists had expected a 0.2% gain.
The S&P/Case-Shiller index of real estate values in 20 cities climbed 4.3% in October from a year earlier, the largest leap since May 2010.
Gold for February delivery was up $1.40 at $1,660 an ounce at the Comex division of the New York Mercantile Exchange, while February crude oil contracts were up $2.56 to $91.17 a barrel.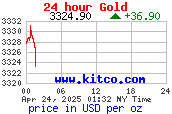 The benchmark 10-year Treasury was trading at 1.75%, down 2 basis points. The U.S. dollar index was at 79.63.
In corporate news, Nike(NKE) dropped $1.47, or 2.8%, to $51.33, as stocks tied to holiday shopping suffered. Apparel maker Michael Kors (KORS) tumbled $3.54, or 6.6%, to $50.03. Luxury-handbag company Coach(COH) slid $3.39, or 5.9%, to $$54.13.