An Upgrade to Virgin America First Class Is Worth Every Penny
Written by:
Rocco Pendola
NEW YORK ( TheStreet) -- Early last month I splurged to fly Air Canada's business class cabin only to discover that, as usual, I'd rather be flying Virgin America .
My Sunday trek -- on Virgin America -- from LAX to New York's JFK Airport reaffirmed that feeling. It also reignited worry over what the inevitable Virgin America IPO could do to the airline's superior customer experience.
Case in point -- it cost more than $800 to upgrade from the main cabin to Business Class service on Air Canada. The payoff -- a relatively dumpy cabin with dogs barking feverishly in the cargo hold below. While it's kind of nice having a full-recline seat in your own private pod, nothing else about the service even comes to close to justifying the cost, particularly when compared to First Class on Virgin America for $399.
Typically I don't make these types of $400 splurges; however, when I fly it makes sense. Or at least I have rationalized the situation in such a way to make myself believe it makes sense.
First, my employer -- TheStreet -- pays for the base fare. Pure rationalization, yes, but it doesn't feel as wasteful to drop the extra cash when it's not in addition to paying for the flight itself. Downside -- I'm spoiled so I have been known to pay for the upgrade even when traveling on my own dime (though I often opt for the less expensive, just as value-packed Main Cabin Select upgrade, which sometimes happens for free).
Second, on flights longer than a few hours having more space, more attentive service and amenities such as a guaranteed power outlet and a semi-exclusive restroom puts you in the best situation possible -- physically and mentally -- to get considerable amounts of work done.
Third, more rationalization. I don't have season tickets. I don't go to a ton of concerts. I don't eat in fancy restaurants on a regular basis. I don't send my kid to private school. I don't drive a Mercedes. But I love to travel. And I like to write about it. So I figure why not ...
Plus ... you get a better meal in first class.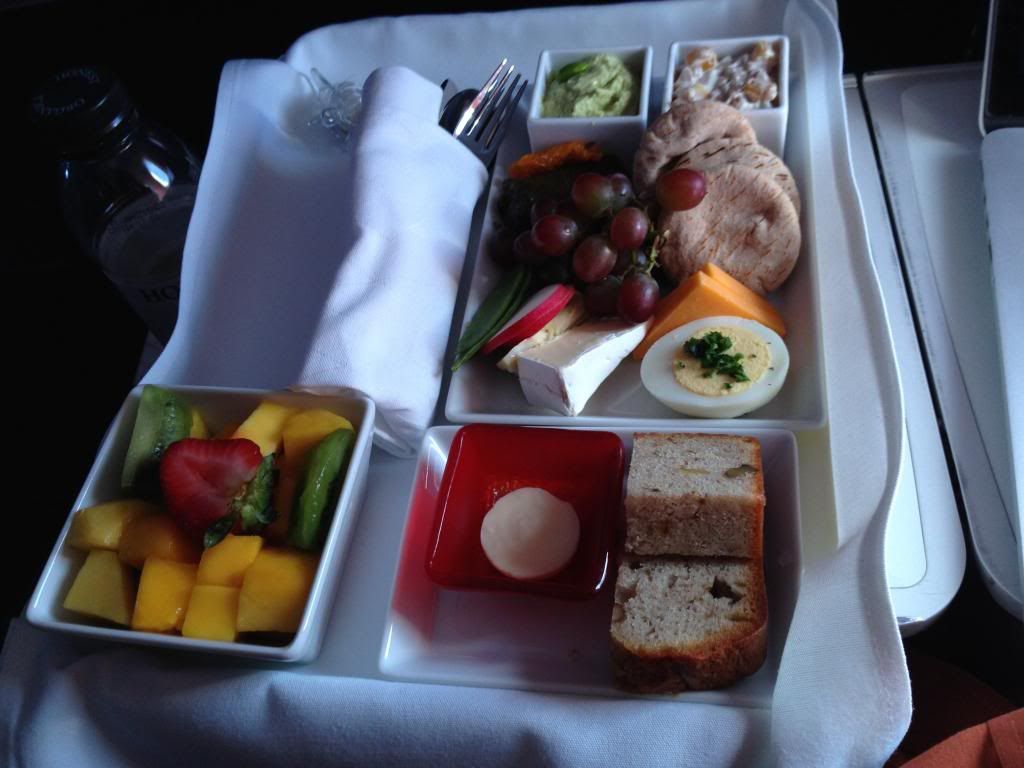 That meal, served Sunday morning in first class on Virgin, made what Air Canada trotted out last month when I flew to Toronto look like dog food. (You can see the Air Canada meal and other images and observations from that flight at the link back in the first paragraph of this article).
And thinking back on the idea of a full recline seat in a private pod ...
Unless you're traveling long haul (considerably more than five hours), what's the advantage to being able to lie down? I'll take a big, cushy leather seat any day over a standard seat adapted in such a way it ends up looking and feeling like an ironing board.