Gold Knocked Back by Fading QE3 Hopes
Tickers in this article:
ABX EGO KGC AUY GG
Updated from 11:04 a.m. EDT with settlement prices and additional analyst comments
NEW YORK (TheStreet) -- Gold prices fell Thursday as trader hopes dimmed for the Federal Reserve to deliver another round of quantitative easing sooner than later.
Gold for August delivery settled down $10.40 at $1,565.30 an ounce at the Comex division of the New York Mercantile Exchange. The gold price traded as high as $1,577.90 and as low as $1,554.40 an ounce, while the spot price was dropping $9.20 an ounce, according to Kitco's gold index.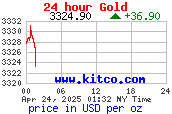 "The Fed is basically hinting that even though they may ease down the line, they realize that the risks may outweigh the easing and it probably pays to just wait and make sure the economy really is in trouble before they do that easing," said Yoni Jacobs, chief investment strategist at Chart Prophet.
Silver prices for September delivery slid about 14 cents to settle at $27.16 an ounce, while the U.S. dollar index was gaining 0.29% to $83.72.
The minutes of the Fed's June 19-20 policy meeting showed members of the central bank's open market committee felt the economy was still showing signs of modest growth and that few were in support of additional monetary stimulus at that time.
Few gold analysts expected to hear a ringing endorsement of QE3 from the transcript but traders seem to have been more of a mind that another bond-buying program was inevitable eventually. The minutes indicated that wasn't necessarily the case with members saying macro conditions would have to get a lot worse in order to justify the action.
Jacobs said he thinks gold momentum has broken down, but added that he's still waiting to see what the Fed does at its next meeting.
Gold was also feeling pressure as the U.S. dollar firmed against the euro, which is sitting around two-year lows.
"I suppose we saw some misplaced expectations for more emphatic calls for stimulus in the FOMC minutes. Those positions are being reversed today as the dollar gets driven up and gold down," said Sonny Tahiliani, managing director of precious metals at MacroMoves Capital Advisors.
Tahiliani said he expects eventually an about-face, because he thinks the Fed will ultimately enact easing.