Gold Prices Turn Negative (Update 1)
Tickers in this article:
EURUSD=X GDX GDXJ GFI GLD GOLD IAU USDJPY=X
Updated from 11:12 a.m. EST with afternoon action and settlement prices
NEW YORK ( TheStreet) -- Gold prices retreated Tuesday, despite an early rally on news that the chief of Japan's central bank said he would leave his post in March.
Gold for April delivery lost $2.90 to settle at $1,673.50 an ounce at the Comex division of the New York Mercantile Exchange. The gold price traded as high as $1,687 and as low as $1,667.20 an ounce, while the spot price was off $1.50, according to Kitco's gold index.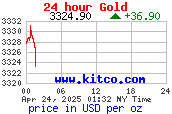 Gold prices initially moved higher after Bank of Japan Gov. Masaaki Shirakawa told reporters in Tokyo that he would step down on March 19, likely paving the way for Prime Minister Shinzo Abe to push for even greater accommodative monetary policy.
But the ISM Non-Manufacturing Index printed Tuesday at 55.2% for January, a signal of rising momentum for employment for the sixth straight month.
Gold prices are closely tied to labor market trends as the Federal Reserve has pegged its low interest rates policy until the unemployment rate drops to 6.5%. Many analysts view the end of low interest rates as a suggestion that central bank quantitative easing would conclude, as well.
The ISM announcement reversed earlier gains after the Bank of Japan news. Even before returning as the leader of Japan, Abe had argued for greater easing policies by the central bank. Abe's pressure on the central bank, at one point, had elicited criticism from Shirakawa who called for respect of the Bank of Japan's independence.
Silver prices for March delivery increased 16 cents to $31.88 an ounce, while the U.S. dollar index was off 0.05% to $79.52.
Investors typically view looser monetary policy as inflationary, and a more accommodative stance from Japan may drive more traders to the yellow metal as an asset hedge against inflation. The greenback was surging to ¥93.36 yen against the prior day's close at ¥92.38.
Funds may also be turning back to the gold market.
"The euro is steady, it looks like stocks moving higher and gold moving higher signal a measure of the return of the funds that I've been looking for, slowly, as low open interest on the Comex -- around 424,000 round numbers -- is still low and room for the funds to come back in," George Gero, precious metals strategist at RBC Wealth Management, said in an interview .
The euro was rising slightly Tuesday against the U.S. dollar to $1.3578, up from the prior day's close at $1.3514, a day after news that Spain's opposition Socialist Party had called on the country's prime minister to step down and after the prospect reemerged that former Italian Prime Minister Silvio Berlusconi would challenge for his old post.