Gold Prices Roiled by 'Fiscal Cliff' Standstill
Tickers in this article:
AEM KGC GLD AU IAU AUY
NEW YORK ( TheStreet) -- Gold prices plummeted Tuesday as "fiscal cliff" concerns continued to smack the yellow metal to one-month lows.
Gold for February delivery was dropping $25.50 to $1,695.60 at the Comex division of the New York Mercantile Exchange. The gold price traded as high as $1,719.20 and as low as $1,694.20 an ounce, while the spot price was losing $18.60, according to Kitco's gold index.
Gold traded at $1,704.50 an ounce on Nov. 15 , which marked the lowest level for the commodity in four weeks.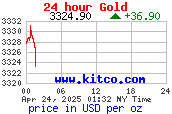 "Gold prices broke to under the pivotal $1,700 mark overnight, and did so despite a slightly weaker US dollar, despite a firmer euro, but alongside almost 1% weaker crude oil values," Jon Nadler, senior analyst at Kitco Metals, noted Tuesday morning.
Nadler noted that an overall slide in commodities and the continued stall in negotiations over the so-called fiscal cliff -- when tax relief measures and deep spending cuts will automatically go into effect at the beginning of 2013 -- were responsible for the four-week low.
Silver prices for March delivery were sinking 65 cents to $33.11 an ounce, while the U.S. dollar index was dropping alongside the precious metals by 0.25% to $79.69.
House Speaker John Boehner emerged Monday afternoon with a plan from Republican leaders that outlined $2.2 trillion in deficit reduction over the next 10 years, and a proposal to raise $800 billion in new revenue. It was a counter-proposal to President Obama's plan, which the GOP had flatly rejected.
With the two plans on the table, Republicans and Democrats effectively have staked their opening moves, but this has also given little confidence from investors.
It should not come as too much of a surprise to traders as many market analysts and political strategists have said that they did not expect an immediate solution to the "fiscal cliff." Nor have many expected a full deal by the end of the year . Instead, a fleshed-out budget, complete with detailed spending cuts and tax increases, may not emerge as far out as a few months into 2013. A few short-term adjustments may be in store before 2013 so as to avoid fallout from a full "cliff."
Manufacturing reports from the United States and China printed Monday. The Institute for Supply Management's manufacturing index for the U.S. crept below 50 -- anything under that number constitutes a contraction in the industry. China's PMI came in slightly above 50, but failed to bolster confidence that manufacturing was trending decidedly in a positive direction.
Gold-watchers may be keeping an eye on employment numbers for the rest of this week as the ADP employment report -- a record produced from a subset of ADP payrolls of some 24 million employees who work in private industrial sectors -- weekly jobless claims and the monthly employment situation are released.