Gold Prices Dip Slightly on Improving Economic Data
Tickers in this article:
AEM KGC GLD NEM ABX IAU
Updated from 12 p.m. EST with settlement prices and remarks from Federal Reserve Chairman Bernanke
NEW YORK ( TheStreet) -- Gold prices dipped further Tuesday after Federal Reserve Chairman Ben Bernanke warned that a full realization of automatic tax increases and spending cuts that would go into effect in 2013 -- the so-called fiscal cliff -- would pose a threat to the U.S. economy.
Gold for December delivery lost $10.80 to settle at $1,723.60 an ounce at the Comex division of the New York Mercantile Exchange. The gold price traded as high as $1,736 and as low as $1,722.70 an ounce, while the spot price was dropping $5.40, according to Kitco's gold index.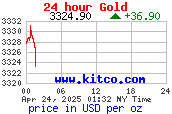 Traders already had been taking early profits Tuesday morning encouraged by improving economic data ahead of the Thanksgiving holiday weekend.
"I think we've really got a bunch of numbers hanging over where we are here, I mean, the resistance is very noteworthy in this levels of $1,739 to $1,743 an ounce ," said Stanley Dash, vice president of applied technical analysis at TradeStation Securities. "The momentum picture has gotten more favorable, commitments of traders picture has gotten more favorable ... open interest is steady."
Silver prices for December delivery fell 26 cents to $32.93 an ounce, while the U.S. dollar index was lowering 0.09% to $80.95.
Should the full fiscal cliff occur, Bernanke warned that it could send the economy toppling back into a recession.
"A failure to reach a timely agreement this time around could impose even heavier economic and financial costs," Bernanke said.
The Census Bureau reported Tuesday that housing starts rose to an 894,000 annual rate in October, which was more than the 840,000 that an average of economists had expected.
The promising housing news extended months of improving housing data that has suggested a constant advance in the housing market, and by extension, greater health in the U.S. economy.
Bernanke has said the implementation of the central bank's open-ended, mortgage-backed security purchasing program -- known as quantitative easing, or QE3 -- would remain in effect until the economy and labor market had shown meaningful and sustained improvement. The ambiguity of the Fed chairman's statement has left most gold traders without clarity as to when the program would end.
Quantitative easing is seen my many analysts as a long-term net positive for the price of gold as they view open-ended monetary stimulus as an inflationary policy.
Fed Bank President Jeffrey Lacker, though, said Tuesday morning at the Shadow Open Market Committee's Fall Symposium that he did not support the idea of linking labor market developments to the bank's stimulus program because it could cause inflation levels to rise .
Bernanke did not offer more transparency on how long the Fed will stick with its easing program.