Gold Prices Fall on Bernanke Fiscal Cliff Warnings
Tickers in this article:
ABX AUY GLD GOLD IAU NEM
NEW YORK ( TheStreet) -- Gold prices were sinking Thursday despite the Federal Reserve's policy announcement Wednesday that it would begin to purchase $45 billion a month of longer-term Treasury bonds in addition to the $40 billion a month it has been buying in mortgage-backed securities.
Gold for February delivery was dropping $18 to $1699.90 an ounce at the Comex division of the New York Mercantile Exchange. The gold price traded as high as $1,712.80 and as low as $1,690.70 an ounce, while the spot price was shedding $14.40, according to Kitco's gold index.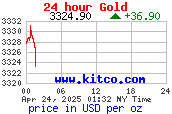 The move downward for gold began in afternoon trading on Wednesday after Fed Chairman Ben Bernanke emerged to tell reporters that the central bank wouldn't be able to avert the United States from the so-called fiscal cliff without action in Washington.
"I think the negative concern is that the fiscal cliff might push the U.S. in to recession, and recessions generally are bad for gold," said Adrian Day, president of Adrian Day Asset Management. "And of course Bernanke increased those concerns by saying: 'Hey, we can't do enough to stop a recession if Congress and the White House don't agree.'"
House Speaker John Boehner (R., Ohio) spoke to reporters Thursday morning and said it appeared to him that President Barack Obama was willing to "slow-walk" any agreement right up to the fiscal cliff.
It's rhetoric that the speaker has used in the past, but investors shouldn't be caught off guard by the possibility that legislators wait until the final day to reach an agreement, if there is one.
Very few details have materialized since Boehner and Obama aides clamped down on releasing specifics of closed-door discussions, and the White House publicly has said it feels that it was in the best interest of the deal to not read details of the conversations between Obama and head lawmakers.
If Thursday's market is indicative of what may come of cliff talks, then a deal may be impossible to reach. But traders may want to consider the politics of what Congressional leaders and the president are saying, not just the words coming out of their mouths.
"It's a deal not going to happen a day sooner than the deadline , because there's no upside: Politics is a grand theater, so why would we close early?" Lee Munson, chief investment officer at Portfolio LLC, said in a previous interview . "And it won't help markets, because who wants to deal after Christmas with some huge surge and not be there to deal with it?"
Though the yellow metal may be lower Thursday, many analysts see the Fed's latest purchasing program announcement as a positive long-term move for gold, as the central bank expanding its balance sheet can be viewed as inflationary policy. Investors see gold as a hedge against inflation.