Gold Prices Rise, Platinum Surges (Update 1)
Tickers in this article:
ABX EURUSD=X GG GLD IAU KGC
Updated from 11:51 a.m. EST with settlement prices
NEW YORK ( TheStreet) -- Gold prices advanced for the second straight session while platinum prices surpassed the yellow metal for the first time since March 2012.
Gold for February delivery increased $14.50 to settle at $1,683.90 an ounce at the Comex division of the New York Mercantile Exchange. The gold price traded as high as $1,684.90 and as low as $1,666.20 an ounce, while the spot price was adding $14.80, according to Kitco's gold index.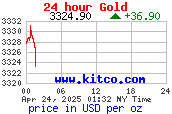 "Platinum's $27 surge that took place ... on Monday, nearly wiped out the hitherto existing discount of the noble metal vis a vis gold," Jon Nadler, senior metals analyst, wrote in a note on Tuesday.
Platinum prices for April delivery surged $31.70 to close at $1,689.90 an ounce. Silver prices for March delivery were tacking on 32 cents to $31.43 an ounce, while the U.S. dollar index was climbing 0.30% to $79.74.
Gold traders began speculating this week on the possibility of Congress failing to raise the debt ceiling, as such an event would likely drive up the price of the precious metal as investors would flock to the asset as a hedge against uncertainty.
Traders may recall that Congress' debt-ceiling battle in 2011 led to historic highs for gold as bitter division rocked stock markets and resulted in the eventual downgrade of the United States' credit rating.
Federal Reserve Chairman Ben Bernanke spoke Monday at the Gerald R. Ford School of Public Policy at the University of Michigan and reiterated that the U.S. economy still was not yet out of the woods.
Bernanke's comments essentially were in line with a speech given by Chicago Fed President Charles Evans, who spoke Monday and reaffirmed that the U.S. would need more quantitative easing in the near term .
Dovish remarks from Evans and Bernanke added shine to gold prices more than a week after the Federal Open Market Committee -- the policy-making arm of the Fed -- released minutes that showed division among its voting members as to when the central bank should end its easing programs. A few members said stimulus should end well before 2013, others said it should conclude at the end of 2013 and some reiterated the need to commit to a more accommodative position.
In Europe, inflation spiked in Germany as the Federal Statistics office reported that prices increased 2.1% year over year in December. Inflation in the U.K. held steady at 2.7% against a year earlier in December; inflation also remained steady in Italy at 2.6%.
Investors often look to gold as a hedge against inflation.
The euro, which had rallied against the U.S. dollar for the previous three trading sessions, retreated against the greenback for the first time since European Central Bank President Mario Draghi forecast last Thursday a positive outlook for the region by late 2013.