Gold Prices Sink Amid Multiple Headwinds
Tickers in this article:
AUY EGO GLD IAU NEM
NEW YORK (TheStreet) -- Gold prices dropped Friday for the third day in four as multiple headwinds continued to erode the yellow metal.
Gold for April delivery dropped $5.80 to settle at $1,572.80 an ounce at the Comex division of the New York Mercantile Exchange. The gold price traded as high as $1,587 and as low as $1,569.30 an ounce, while the spot price was shedding 70 cents, according to Kitco's gold index.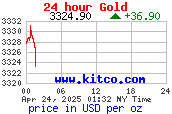 "Sequestration, which is anti-inflationary, the FOMC minutes of the Federal Reserve warning that the punch bowl may be taken away by 2014 -- I think that's the big one -- which means creeping interest rates, which also would be anti-inflationary," said George Gero, a precious metals strategist at RBC Wealth Management. "So I think gold has a bunch of headwinds, on the other hand I think you're going to stay in this narrow range of $1,550 as a base in support, and probably $1,600 as the resistance area."
Gold prices had just two positive sessions during the past two trading weeks, as hedge funds have sold off positions and as the Fed's policy-making wing hinted on Wednesday that "many" more members were considering scaling back on the central bank's quantitative-easing programs before the end of 2013.
The sequestration, or across-the-board spending cuts that will automatically go into effect if Congress fails to reach an agreement in March, could force massive cuts in defense and other government areas. Many analysts agreed that a dip in government spending in late 2012 led to the slight contraction in fourth-quarter gross domestic product.
Silver prices for March delivery dropped 24 cents to close at $28.46 an ounce, while the U.S. dollar index was adding 0.15% to $81.48.
"The bigger funds have been playing for a couple weeks now, they're in the water, they've been selling it down," David Yoe Williams, director at Strategic Gold Corp., said in an interview. "I think the long-term investor, the physical gold investor is in the market, is staying in the market ... but the derivatives market in gold is 100 times bigger than the physical, so it's driving the market right now."
Gold-mining stocks were mixed Friday. Shares of Eldorado Gold (EGO) were dropping 1.9%, and Newmont Mining (NEM) was rising 0.7%.
Among volume leaders, Yamana Gold (AUY) were off 1.1%.
Gold ETF SPDR Gold Trust (GLD) was dipping 0.16%, while iShares Gold Trust (IAU) was slipping 0.13%.
-- Written by Joe Deaux in New York.
>Contact by Email.