Gold Prices Surge on Obama's Fiscal Cliff Optimism (Update 1)
Tickers in this article:
AEM AUY GLD GOLD IAU NEM
Updated from 11:53 a.m. EST with settlement prices and new analysis
NEW YORK ( TheStreet) -- Gold prices surged Monday afternoon in the lead up to President Barack Obama's optimistic remarks that a deal was in sight for Congress to avert the so-called fiscal cliff on the final trading day of 2012.
Gold for February delivery rose $19.90 to settle at $1,675.80 an ounce at the Comex division of the New York Mercantile Exchange. The gold price traded as high as $1,681 and as low as $1,655.90 an ounce, while the spot price was adding $19.20, according to Kitco's gold index.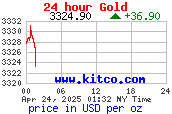 The spike was purely on the president's comments ... on the hopes that ... they got a deal done," said Tom Power, senior commodities broker at RJO Futures. "I think the deal is spending more money or kicking the can down the road a little bit."
The president emerged Monday afternoon to say that a deal was in sight but not yet finalized. Reports have said the deal would raise income rates on families earning more than $450,000 a year and individuals making more than $400,000 a year.
"Fiscal Cliff negotiators are still working but investors are taking a very cautious approach and gold as a general haven is viewed as an important asset," George Gero, precious metals strategist at RBC Wealth Management, wrote in a note.
Negotiations filed during the weekend after Senate Minority Leader Mitch McConnell and Senate Majority Leader Harry Reid had failed to reach an agreement on tax hikes and other specifics to avoid the deep automatic spending cuts and tax increases that could go into effect by midnight.
Senate Republicans had proposed tax hikes on individuals who were earning up to $450,000 and income of couples at $550,000, but Democrats counter-offered $360,000 for individuals and $450,000 for couples.
The White House sent Vice President Joe Biden to commence talks with McConnell, and by early Monday morning the two had made significant progress on a deal.
Silver prices for March delivery increased 25 cents to close at $29.92 an ounce, while the U.S. dollar index was increasing 0.14% to $79.78.
The Dallas Federal Reserve manufacturing survey showed that Texas factory activity edged up in December to 2.7 from last month's 1.7, according to the Texas Manufacturing Outlook Survey.
Economic indicators that could sway the yellow metal later this week include the ISM manufacturing index and the latest round of Federal Open Market Committee minutes -- the policy-writing wing of the Federal Reserve -- on Wednesday, and the December unemployment rate that prints on Friday.
The Fed's latest round of monetary stimulus measures included an open-ended purchasing of $45 billion a month in longer-term Treasury bonds. A critical caveat to the plan that affects gold investors is that the Fed has set a 6.5% unemployment rate as a target that would trigger the end of this easing program.